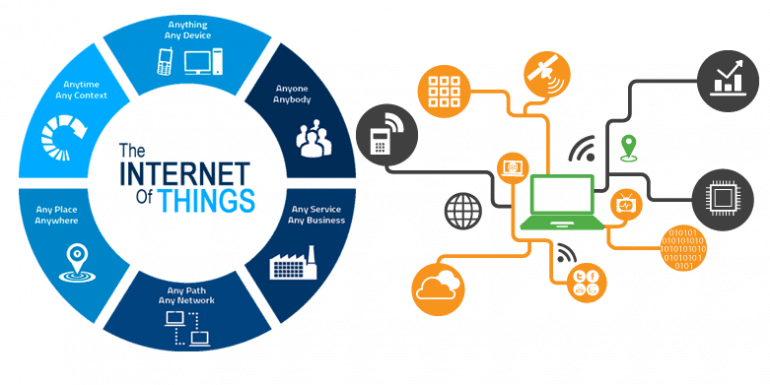 IoT Can change Our Life
Let's know how the Internet Of Things can change Our Life?
let's know what is known as the Internet of Things (IoT) – It refers to the collective network of connected devices and the technology that facilitates communication between devices and the cloud, as well as between the devices themselves.
There are billions of devices connected to a wireless network, such as cell phones, vehicles, electronic appliances, smart sensors , wearable devices, hospital devices, etc. These devices contain sensors that can collect data, and software that can upload the data to the cloud or directly exchange data with other connected devices.
Why is the Internet of Things (IoT) so important?
Over the past few years, IoT has become one of the most important technologies of the 21st century. Now that we can connect everyday objects like – vehicles, kitchen appliances, thermostats, baby monitors to the internet via embedded devices, seamless communication is possible between people, processes, and things.
By means of low-cost computing, the cloud, big data, analytics, and mobile technologies, physical things can share and collect data with minimal human intervention. In this hyperconnected world, digital systems can record, monitor, and adjust each interaction between connected things.
Impacts of IoT –
IoT applications use machine learning algorithms to analyse massive amounts of connected sensor data in the cloud. Using real-time IoT dashboards and alerts, you gain visibility into key performance indicators, statistics for mean time between failures, and other information. Machine learning-based algorithms can identify equipment anomalies and send alerts to users and even trigger automated fixes or proactive counter measures.
There are many ways that IoT can impact Life easier –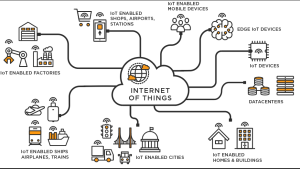 1. Smart Cities
2. Healthcare
3. Smart Home Appliances
4. Self Driving Car
5. Smart Agriculture
What industries can benefit from IoT?
Connecting everything and everyone to the internet with the help of several devices, the Internet of Things (IoT) has one of the most talked-about technologies ever. While it has helped everyone stay updated and reduced the physical work significantly, it has certain loopholes that should not be ignored.
Organizations best suited for IoT are those that would benefit from using sensor devices in their business processes. Like –
1. Manufacturing
2. Transportation and Logistics
3. Retail
4. General Safety Across All Industries, etc.
How Does The Internet Of Things(IoT) Work?
The Internet of Things (IoT) system helps connect all devices to the internet with the help of sensors that are fit into it, IoT connects with the cloud through the internet and passes on the information to the cloud. Once this information is received by the software via Cloud, it is then processed and some sort of action is performed on the same. There are several ways of performing any sort of action on the same such as sending out a signal, alarm, etc.
The Internet of Things(IoT) – is a catchy term for what is simply a network of Wi-Fi – enabled appliances or other devices that all connect to the internet. The goal is to create a smart home, one filled with internet-connected appliances that you can control remotely from your phone or other devices.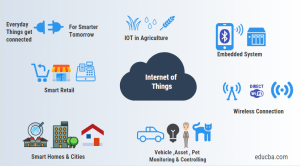 Remember when refrigerators, air conditioners, and toaster ovens didn't connect to the internet? That's changed, and you can thank the Internet of Things the next time your refrigerator pings your phone when its power goes out or your air conditioner starts pumping cool air into your living room 10 minutes before you get home from work.
The Future Scope of IoT –
The future of IoT has the potential to be limitless. Advances to the industrial internet will be accelerated through increased network agility, integrated artificial intelligence (AI) and the capacity to deploy, automate, orchestrate and secure diverse use cases at hyperscale. An exciting wave of future IoT applications will emerge, brought to life through intuitive human to machine interactivity. There have been many developments in the IoT ever since it came into being. The graph of the use of this technology has been going up and there are innumerable smart devices that have made an entrance in our personal and professional lives.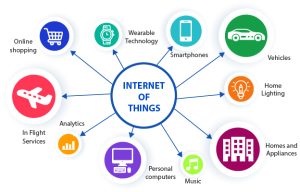 Take a look at some future predictions of IoT technology –
1. More smarter cities
2. 5G networks to increase growth
3. Smart Vehicles
4. Growth of AI (Artificial Intelligence) & Machine Learning
5. IoT Security Improvements
6. IoT Networks Decentralized
How to develop an app for the Internet of Things (IoT)?
To get into the competition and give a tough fight, it is essential to keep up with the technology and embracing the latest devices that help you pace up and stand out. This can happen if you get a mobile or Web Application made for IoT. This simplifies a lot of things for you as everything can be operated from your dashboard and interface.
The Top most IoT development trends are –
It takes a great deal of effort to develop IoT apps for your business. Take a look at the top trends of IoT development –
1. Use of IoT in providing customer services.
2. Machine learning and IoT.
3. The use of this technology with proper security in customer appliances.
4. Use of IoT devices in the healthcare sector.
5. Edge computing and processing of the data.
6. Providing a helping hand in managing the workforce.
Conclusion –
The Internet of Things(IoT) holds great promise but also brings significant concerns. The IoT has been doing wonders in creating smart cities, smart appliances, driverless cars as well as Vehicular solutions among other things, but there are certain loopholes that have to be taken care of. Businesses must fix this issue by creating tight security to the data of their devices. Also, the practice of getting an application made for IoT for your business can help you get all possible benefits. Hiring an App Development Company that has prior experience in the same can help you reach the masses and develop a competitive app.
---
Schedule a 30 Minutes Consultation
Feel free to talk or consult with us. Leave a message, we'll get back soon.
Start Here
Pick a date & time of your choice
No obligation. Cancel anytime