Food Delivery App Clone Service
Start developing your apps now to replace meal delivery.
We give business owners the ability to launch their own ventures using our cloud-based on-demand solutions, such food delivery. A tailored delivery management system as well as a well-known online food ordering website and app will be provided to you.
What can you find on our app for Food Delivery?
A technology suite of mobile apps is integrated into our white-label and ready-made food delivery app.
Customer App
Give your clients the option to browse the meal menus of the nearby restaurants, place orders right away, or effortlessly schedule orders. Customers can also track their deliveries in real-time after placing an order.
Restaurant
Customers can view the restaurant profile and select the best meal they are serving before placing an order.
Notification
The app has a real-time push notification system to keep users updated on the status of their orders.
Order
You can place an order from one restaurant or several.
Search
You can conduct a search using the name of the restaurant, the category, and the type of food.
Payment
A variety of payment methods, including UPI, credit, and debit cards, are accessible.
Reviews and Ratings
Clients have the option of leaving reviews and ratings for both the restaurant profile and the driver.
Talk to Expert
Food Aggregator App
Enable suppliers to register their restaurants in your app, add menu items, modify the status of their availability, accept or reject orders, and manage any orders that are being held up.
Profile
The owner of the restaurant has the option to update their profile as desired.
Availability
Owners can easily turn on or off the business or item based on availability using the owner app.
Notification
Restaurant owners receive a prompt push message on the app to easily accept the order.
Promotion
Restaurants can establish their own promo codes on our restaurant app to directly offer customers a discount.
Profit & Loss
They have access to an analysis of their profit and loss as well as sales commission.
Branding
Using the branding capabilities of this app, restaurant owners have the chance to separate out from the competition.
Talk to Expert
Delivery Agent App
The driver app enables delivery agents to build their profiles, update their availability status, receive instant notifications on incoming orders, accept or decline orders, and view deliveries as they are being delivered.
Profile
Delivery agents can easily set their area of delivery from the app, according to their profile.
Notification
To accept or reject the order, a quick push notification is implemented on the delivery boy app.
Route
We also use the Google Maps API to accomplish route optimisation.
Earnings
The delivery agent can view their earnings history with only one click.
Payout
Delivery agents can use this app to request a payout of their earnings.
Talk to Expert
Admin Dashboard
This programme makes it simple for the admin to handle business activities. Along with managing customers, the software also enables administrators to see or control food aggregators and delivery personnel.
Manage Restaurant List
Food Aggregators have the option to change the information in their profiles as they see fit.
Language Options
The store or item can be turned on or off by the owner via their app, depending on stock.
Updates to the app
Owners of Food Aggregators receive immediate push alerts so they may easily accept the order.
Revenue Management
Food aggregators can also establish their own promo codes on our restaurant app in order to directly provide discounts to customers.
Zone Tracking
They can examine their profit loss and sales commission instantly.
Website Revenue
With the help of the app's branding features, food aggregator owners can differentiate themselves from the competition.
Talk to Expert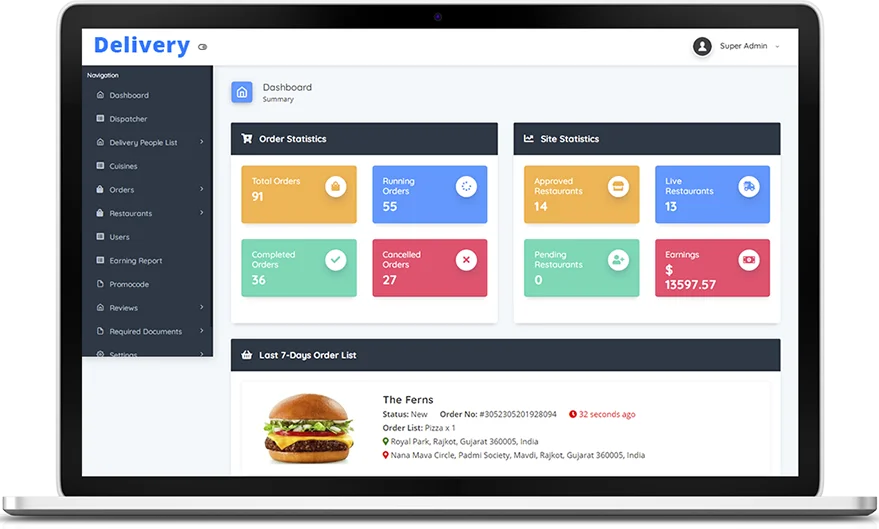 Others on demand app business
We are delighted to support you as you begin your entrepreneurial adventure with us. When we are aware of your ideas, we can help you put them into practice and point you in the proper way for a successful launch of your enterprise. You are welcome to visit our development center to see your specifications created right before your eyes. Discussions about your platform can be had with our project manager, coordinator, and designer.
Want to Consultation to kick start your On-Demand Business?
Checkout our Business Management System
Want to see your ideas come Alive?
We are avilable to discuss for your project 12/7.Once we have an alignment about the details of the project you are invited to see your requirement designed in front of your eyes at our development centre. Interact with our project manager developer designer regarding your platform we will help you with our idea to start with your Journey.
Schedule a 30 Minutes Consultation
Feel free to talk or consult with us. Leave a message, we'll get back soon.
Start Here
Pick a date & time of your choice
No obligation. Cancel anytime